RE: Licensing of Electricians and Electrical Contractors
Topic: Press Release
Reprint from the Wisconsin Department of Safety and Professional Services Website
Scott Walker David Ross
Governor Secretary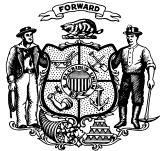 WISCONSIN DEPARTMENT OF SAFETY & PROFESSIONAL SERVICES
1400 E Washington Ave
PO Box 8935
Madison WI 53708-8935
Email: dsps@wisconsin.gov
Voice: 608-266-2112
FAX: 608-251-3016
TTY: 608-267-2416

March 13, 2013

RE: Licensing of Electricians and Electrical Contractor Questions
Notice: 2013 WI Act 4 delayed the effective date of mandatory statewide electrician licensure to April 1st, 2014.
Technical SPS 316 and NEC requirement Questions

1) When will the 2011 edition of the NEC be adopted by the State of Wisconsin?
The department is putting the finishing touches on this code update and will be completing this project in the near future.
2) Can the satellite or slave cables that are part of a listed luminaire assembly be secured to a non-fire-rated ceiling grid or the ceiling support wires?
Typical non-fire-rated ceiling assemblies are designed to support luminaire assemblies with typical spacing patterns. The slave cables component of the luminaire assembly is also permitted to be secured to and be supported by the grid or ceiling support wiring. Branch circuit wiring is not. The method of securing the slave cables is subject to approval by the AHJ in the same manner that the support and securing of the luminaire to the grid is subject to approval.
The slave cables shall be arranged and supported so as to allow removal of the ceiling panels in accordance with NEC 300.23.
3) How do you size service-entrance conductors that are common to multiple dwelling units? The service equipment consists of two to six service disconnecting means.
The minimum size of the service-entrance conductor's common to multiple dwelling units is determined by the cumulative calculated load.
4) Shall the existing electrical wiring in a dwelling unit be brought up to current code requirements in any room where the wall or ceiling surfaces are removed in whole or in part?
The existing electrical in the space is not required to be replaced, altered, or upgraded based solely on the removal of wall or ceiling surfaces.
5) Conductors, 4 AWG or larger, are spliced within a pull box. The box is properly sized. However, the distance between raceways entries is not 6 X the diameter of the raceway. Are spliced conductors considered the "same" conductor?
NEC 314.28(A)(2) Paragraph 2 " The distance between raceways containing the same conductor shall not be less than six times the metric designator (trade size) of the larger raceway.
The intent of the code section is to protect conductor insulation from damage as the conductor is being pulled through an enclosure.
The minimum size of the enclosure containing the spliced conductors, 4AWG and larger, is determined by 314.28(a)(2). The distance between raceways requirement does not apply to spliced conductors.
Posted by wispectllc at 10:06 AM EDT
Updated: Friday, March 22, 2013 10:28 AM EDT